merchant delivery
Country of Origin

China

Description

Series/Model : 228-231
Description : shoes cabinet (2 Doors)
Colour:glossy white and palm wood colour
Product sizes (mm) : L 760 D 380 H 1100
Materials: MDF, Particle board and etc.

Delivery / Return

To be Delivered by ALPHA FURNITURE within 14 - 17 Days
Sold by ALPHA FURNITURE
This product is non-returnable
Photo

Description

Customer Review(s)

Q&A
Series/Model : 228-231
Description : shoes cabinet (2 Doors)
Colour:glossy white and palm wood colour
Product sizes (mm) : L 760 D 380 H 1100
Materials: MDF, Particle board and etc.
Services and terms :
1. Delivery service: Goods delivery time is about 10-21 working days. Our staff will contact customer to confirm the schedule one working day in advance.
2. No services provide during Sunday and Public Holiday. Delivery service will be ceased immediately as Black Rainstorm Warning Signal or Typhoon Signal No.8 or above  is issued. Customers will receive a call on next working day of the new arrangement.
3. Free delivery service is valid for most of the district in Hong Kong , Kowloon and New Territories.(Extra delivery charge: $80 for Tung Chung, $80 for Ma Wan, $210 for Discovery Bay) or other special areas, please contact merchant for details.
4. For addresses cannot be reached by truck directly, extra charge will be applied (Minimum $50 or above).
5. For addresses without lift facilities, $100~$200 per product per floor will be charged.
6. Delivery cycle of districts: Central, Western District, Wan Chai (Monday, Wednesday, Friday) ; Southern District (Monday, Friday) ; Eastern District (Monday, Wednesday, Friday, Saturday) ; Kowloon (Monday, Tuesday, Friday, Saturday) ; Kwai Tsing, Tsuen Wan (Tuesday, Wednesday, Thursday, Saturday) ; New Territories West : Yuen Long, Tuen Mun (Monday, Wednesday, Friday) ; New Territories North & East : Sheung shui, Tai Po, Shatin, Ma On Shan, TKO, Sai Kung (Tuesday, Thursday, Saturday) ; Tung Chung, Discovery Bay, Ma Wan (Wednesday).
7. Please make sure the delivery information is correct to avoid wrong or delay of delivery.
8. Colour of photo may be different than actual product received.
9. Please make sure an enough space which the product can be placed and carry out installation easly .
10. Free assembly service for this model.
11. Free standard delivery service for this model with condition that delivery time will be arranged by appointed logistic company.


All user comments
Has Images
Replied
Recently Viewed Products
( / Total Pages )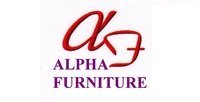 Remarks
Delivery lead-time is about 10-17 working days.
Email enquiry:
hh.furniture@gmail.com
Office hours:
09:30-17:30 (Monday to Friday)
About ALPHA FURNITURE
ALPHA FURNITURE is specializing in product design, production, export and wholesale of furniture. Our philosophy is built on four principals:
1. Exclusive design
2. Functionality
3. Reliable quality
4. Affordable price
Since 2005, the company offers furniture products to local market and overseas markets fulfilling the requirements of trade buyers and local consumers.
Our collection offers a broad range of furnishing solutions. Each design will inspire our client with its unique character and enjoying life at home.
T & C
• Our store will protect your personal information in accordance to the relevant provisions of the personal Data Protection Act and in accords to HKTVmall Privacy Policies.
• In case of any dispute, the merchant will retain the right of final decision without prior notice.
• Colour shown may be slightly different from actual products.
• In situation where there are limitations, price, promotion offers and other marketing campaigns on the HKTVmall may varies from retail stores, the terms and offers are only applicable to HKTVmall.
Delivery / Return
The "Merchant Delivery" goods delivered by this store cannot be combined with goods delivered by other merchants to calculate delivery fee. All "Merchant Delivery" goods from this store are entitled to free delivery service. Some remote areas require additional delivery fee, please contact merchant directly for details.


Below are remote areas for your reference:
Tuen Mun Town Centre, Siu Chi, Siu Tsui, On Ting, Yau Oi South, Yau Oi North, Tsui Hing, Shan King, King Lung, Hing Chak, San Hui, Sam Shing, Hanford, Fu Sun, Yuet Wu, Siu Hei, Wu King, Butterfly, Lok Tsui, Lung Mun, San King, Leung King, Tin King, Po Tin, Kin Sang, Siu Hong, Prime View, Fu Tai, Tuen Mun Rural, Fung Nin, Shui Pin, Nam Ping, Pek Long, Yuen Long Centre, Yuen Lung, Fung Cheung, Shap Pat Heung East, Shap Pat Heung Central, Shap Pat Heung West, Ping Shan South, Ping Shan Central, Ping Shan North, Ha Tsuen, Tin Shing, Shui Oi, Shui Wa, Chung Wah, Yuet Yan, Fu Yan, Yat Chak, Tin Heng, Wang Yat, Ching King, Kingswood North, Tsz Yau, Yiu Yau, Tin Yiu, Kingswood South, Chung Pak, Fairview Park, San Tin, Kam Tin, Pat Heung North, Pat Heung South, Luen Wo Hui, Fan Ling Town, Cheung Wah, Wah Do, Wah Ming, Yan Shing, Shing Fuk, Fanling South, Ching Ho, Yu Tai, Sheung Shui Rural, Choi Yuen Shek Wu Hui, Tin Ping West, Fung Tsui, Sha Ta, Tin Ping East, Queen's Hill, Tai Po Hui, Tai Po Central, Chung Ting, Tai Yuen, Fu Heng, Yee Fu, Fu Ming Sun, Kwong Fuk & Plover Cove, Wang Fuk, Tai Po Kau, Wan Tau Tong, San Fu, Lam Tsuen Valley, Po Nga, Tai Wo, Old Market & Serenity, Hong Lok Yuen, Shuen Wan, Sai Kung North, Sai Kung Central, Pak Sha Wan, Sai Kung Islands, Hang Hau East, Hang Hau West, Po Yee, Wai King, Do Shin, Kin Ming, Choi Kin, O Tong, Fu Kwan, Kwan Po, Nam On, Hong King, Tsui Lam, Po Lam, Yan Ying, Wan Hang, King Lam, Hau Tak, Fu Nam, Tak Ming, Sheung Tak, Kwong Ming, Wan Po North, Wan Po South, Lantau, Yat Tung Estate North, Yat Tung Estate South, Tung Chung North, Tung Chung South, Discovery Bay, Peng Chau & Hei Ling Chau,. Lamma & Po Toi, Cheung Chau South, Cheung Chau North
•Our products will not be delivered by HKTVmall, will need more time to dispatch. You will be contacted after placing the order about the delivery details.
• Actual delivery time depends on the products ordered and the shipping time of the particular merchants.
•Our dispatch time is from Monday to Saturday, excluding Public Holiday
• All products are non-returnable.
• In the event of dispute, HKTVmall's decision shall be final and conclusive.