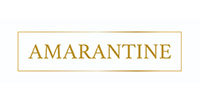 Store Main Page
Store Info
All Products
Store Remarks
Amarantine is an combination of two concepts " Eternality " and " Everlasting ".
Amarantine defines our pursue of eternally and everlasting beauty as transforming both of our body and mind to the most purify level. The foundation of Amarantine being Infusing natural ingredients and traditional recipe to turn our products for beauty secrets of Amarantine, a unique range of "healthy beauty" products has been developed. We trust that beauty is more than just skin-deep, it is the regaining of the natural balance of the skin. To create the optimum balance and get to the essence of true beauty, Amarantine believes in merging with the most modern research and rejuvenating essence of nature with ancient beauty components for that perfect and timeless glow of healthy beauty.
Amarantine standard for pure and natural, we believe that beauty products made of living substances such as plants or their extracts, are balanced by nature that constitutes life. These contain all the purifying, nutritive and balancing properties necessary to nurture the skin and for eternal beauty. They are the perfect for the skin.
I cannot emphasise enough how much thought, care, and attention to detail goes into every item we make at Amarantine - I hope you'll cherish your purchases as much as we do.
We're delighted to meet you - happy shopping!
Store Brands