2-day group shipment
Country of Origin

China

Description

These new models are based on the BGD-500 Series, making them recreations of the very first DW-520 BABY-G model. 
The matte finish materials of the case and band create a sharp, clean image, and monotone coloring allows these models to go well with simple, adult casual fashions.
Water resistant up to 200 meters, these models are a great choice for wear on the beach, around the pool, or other locations where water is present.




Delivery / Return

To be Delivered by HKTV within 1 - 4 days
Description

Recommended for you

Reviews

You may also like
Illuminator
An electro-luminescent panel causes the entire face to glow for easy reading.
Shock-resistant
Shock-resistant construction protects against impact and vibration.
World time function
Displays the current time in major cities and specific areas around the world.
Stopwatch function - 1/100 sec. - 1 hour
Elapsed time, split time and final time are measured with 1/100-sec accuracy. The watch can measure times of up to 1 hour.
Timer - 1/1 min. - 24 hours
For fans of precision: the countdown timers help you to remember specific or recurring events by giving off an audible signal at a preset time. The time can be set to the nearest minute and up to 24 hours in advance. Ideal for people who need to take medicines every day or those who do interval training.
5 daily alarms
The daily alarm reminds you about recurring events with an acoustic signal at the time you have set. This model has 5 independent alarms for flexible reminders of important appointments.
Snooze feature
Each time you stop the alarm, it sounds again after a few minutes.
Button tones on/off
The button tones for using the mode button can be turned off. This means that the watch no longer beeps when switching from one function to another. Preset alarm or countdown timers remain active when the button tones are deactivated.
Automatic calendar with Date, Day and Month
Once set, the automatic calendar always displays the correct date.
12/24-hour timekeeping
Times can be displayed in either a 12-hour or 24-hour format.
Mineral glass
The tough mineral glass resists scratching.
Resin case

Resin band
Synthetic resin is the ideal material for wrist straps thanks to its extremely durable and flexible properties.
Buckle

3 Years - 1 Battery
The battery supplies the watch with sufficient energy for approx. three years.
Water resistance classification (20 bar)
Perfect for free diving without scuba gear: the watch is water resistant up to 20 bar according to ISO 22810.
Recently Viewed Products
( / Total Pages )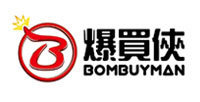 About Bombuyman
Born and raised in Hong Kong, Bombuyman has made up his mind to become the superhero to deliver millions of Hongkongers from skyrocketing prices, after discovering his supernatural abilities. As shop rents keep getting staggeringly high, it is to no one's surprise that merchants pass that cost onto consumers. Bombuyman, seeing how much the common people have been suffering from this deep-rooted problem for decades, is determined to turn things around.
To stop this vicious cycle, Bombuyman selects top-branded goods from trustworthy dealers through the International Hero League, ships them to the Hong Kong headquarter where customers pay and get their items. Since Bombuyman isn't renting a shop on the street, the cost is greatly reduced so that customers can get what they want for incredibly low prices. Bombuyman offers you the best price and the ultimate peace of mind.
Bombuyman fights for the common people! Bombuyman sells for mind-blowing prices!
T & C
•Products will be delivered by HKTVmall, please refer to Shipping Information for more details.
•Actual delivery time depends on the products ordered and the shipping time of the particular merchants.
•Shipping time of this store: Monday to Friday, excluding Public Holiday
•All products are non-returnable.
•In the event of dispute, HKTVmall's decision shall be final and conclusive.
Delivery / Return
The "Merchant Delivery" goods delivered by this store cannot be combined with goods delivered by other merchants to calculate delivery fee. All "Merchant Delivery" goods from this store are entitled to free delivery service. Some remote areas require additional delivery fee, please contact merchant directly for details.


Below are remote areas for your reference:
Tuen Mun Town Centre, Siu Chi, Siu Tsui, On Ting, Yau Oi South, Yau Oi North, Tsui Hing, Shan King, King Lung, Hing Chak, San Hui, Sam Shing, Hanford, Fu Sun, Yuet Wu, Siu Hei, Wu King, Butterfly, Lok Tsui, Lung Mun, San King, Leung King, Tin King, Po Tin, Kin Sang, Siu Hong, Prime View, Fu Tai, Tuen Mun Rural, Fung Nin, Shui Pin, Nam Ping, Pek Long, Yuen Long Centre, Yuen Lung, Fung Cheung, Shap Pat Heung East, Shap Pat Heung Central, Shap Pat Heung West, Ping Shan South, Ping Shan Central, Ping Shan North, Ha Tsuen, Tin Shing, Shui Oi, Shui Wa, Chung Wah, Yuet Yan, Fu Yan, Yat Chak, Tin Heng, Wang Yat, Ching King, Kingswood North, Tsz Yau, Yiu Yau, Tin Yiu, Kingswood South, Chung Pak, Fairview Park, San Tin, Kam Tin, Pat Heung North, Pat Heung South, Luen Wo Hui, Fan Ling Town, Cheung Wah, Wah Do, Wah Ming, Yan Shing, Shing Fuk, Fanling South, Ching Ho, Yu Tai, Sheung Shui Rural, Choi Yuen Shek Wu Hui, Tin Ping West, Fung Tsui, Sha Ta, Tin Ping East, Queen's Hill, Tai Po Hui, Tai Po Central, Chung Ting, Tai Yuen, Fu Heng, Yee Fu, Fu Ming Sun, Kwong Fuk & Plover Cove, Wang Fuk, Tai Po Kau, Wan Tau Tong, San Fu, Lam Tsuen Valley, Po Nga, Tai Wo, Old Market & Serenity, Hong Lok Yuen, Shuen Wan, Sai Kung North, Sai Kung Central, Pak Sha Wan, Sai Kung Islands, Hang Hau East, Hang Hau West, Po Yee, Wai King, Do Shin, Kin Ming, Choi Kin, O Tong, Fu Kwan, Kwan Po, Nam On, Hong King, Tsui Lam, Po Lam, Yan Ying, Wan Hang, King Lam, Hau Tak, Fu Nam, Tak Ming, Sheung Tak, Kwong Ming, Wan Po North, Wan Po South, Lantau, Yat Tung Estate North, Yat Tung Estate South, Tung Chung North, Tung Chung South, Discovery Bay, Peng Chau & Hei Ling Chau,. Lamma & Po Toi, Cheung Chau South, Cheung Chau North
• Our store will protect your personal information in accordance to the relevant provisions of the personal Data Protection Act and in accords to HKTVmall Privacy Policies.
• In case of any dispute, the merchant will retain the right of final decision without prior notice.
• All pictures are for reference only.
• Colour shown may be slightly different from actual products.
• Return and refund item only valid if customer still keep all the accessories and package.
• In situation where there are limitations, price, promotion offers and other marketing campaigns on the HKTVmall may varies from retail stores, the terms and offers are only applicable to HKTVmall.