2-day group shipment
Country of Origin

China

Description

It's really difficult to succinctly describe this game, so take a look at the pictures! Take It Easy is a true multi-player solitaire in which each player individually completes a hexagon-shaped board with spots for 19 hexagon tiles. There's no limit to number of players if you've got enough sets on hand.

Delivery / Return

To be Delivered by HKTV within 1 - 4 days
Video

Photo

Description

Recommended for you

Reviews

You may also like
| | |
| --- | --- |
| 01. Take It Easy Overview | |
It's really difficult to succinctly describe this game, so take a look at the pictures! Take It Easy is a true multi-player solitaire in which each player individually completes a hexagon-shaped board with spots for 19 hexagon tiles. There's no limit to number of players if you've got enough sets on hand. One person (the caller) draws a tile randomly and tells the others which of the 27 tiles featuring colored/numbered lines crossing in three directions, with numbers from 1 to 9, it is. "The 9-8-7," for example. Each player then chooses which empty spot on his own board he'll play the 9-8-7. This is repeated until the boards are filled.

The idea is to complete same-numbered lines across your board. Scoring is calculated by multiplying the number on the tile with the number of tiles in the completed line. A complete column of three 9s is worth 27, for example...but a lot of players will hope for five 9s to fill the big column down the middle.

Take It Easy is often compared to Bingo because of the familiar pattern of a number being called and then everybody looking at their cards to play it, and then scoring if a line is completed. But that's as far as the comparison goes. Bingo is sheer luck; Take It Easy is a game of skill.
Recently Viewed Products
( / Total Pages )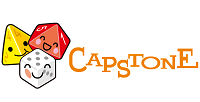 Remarks
Our non-business days:
Every Saturday , Sunday and Holiday
About Capstone Boardgame Co.
Capstone Boardgame Co. was established since 2007. We have introduced over 1000 board games in last 10 years in Hong Kong. Our mission is to bring people together though board game. We believe board game is not only for entertainment, but it is also a good media for education and to get close with all relationships.
We provide high-quality board game for all ages. We are the only agency to cooperate with excellent boardgame companies from Taiwan.
T & C
Our store will protect your personal information in accordance to the relevant provisions of the Personal Data Protection Act and in accords to HKTVmall Privacy Policies.
•In case of any dispute, the merchant will retain the right of final decision without prior notice.
•Colour shown may be slightly different than actual products.
•In situation where there are limitations, price, promotion offers and other marketing campaigns on the HKTVmall may varies from retail stores, the terms and offers are only applicable to HKTVmall.
•HKTVmall is not the seller or supplier of the products or services. HKTVmall is responsible for managing and administering its website, arranging order processing and fulfillment for the products or services you ordered from the suppliers through its website. Whatever item you purchase via HKTVmall will be subject to the terms and conditions of that merchant. The merchant is responsible for the sale and for dealing with any claims or any other issues arising out of or in connection with the contract between you and the merchant. In respect of purchases of a voucher, in addition to the contract you will have with the seller of the voucher, there will also be a contract between you and the merchant that actually provides the products and services when you redeem your voucher with that merchant. We, HKTVmall, do not accept responsibility for any claim, loss or damage, howsoever caused (including through omission or negligence), which you may directly or indirectly suffer in connection with the purchase of any products, services or vouchers through HKTVmall, nor do we accept any responsibility for any such claim, loss or damage arising out of your use of or reliance on information contained on or accessed through HKTVmall. It is your sole responsibility to ensure that any products, services or information obtained from HKTVmall meet your specific requirements.
Delivery / Return
Our products will be delivered by HKTVmall, please refer to Shipping Information for more details.
• Actual delivery time depends on the products ordered and the shipping time of the particular merchant.
• Shipping time of this store: Monday to Friday, without Public Holiday, 9am.
• The merchant reserves the right to amend the stated terms herein without prior notice. In
case of any dispute, the decision of the merchant and HKTVmall shall be final.