2-day group shipment
Country of Origin

Hong Kong

Description

- Valid for 8days with 4GB high speed data FUP unlimited data usage.

- Plug to go, no need registration.

****High Speed Data Added Period****
Activate from the date of 21/9/2019 until 31/12/2019, Plus 2GB High speed data, total 6GB high speed data!! (including all new and old packaging)

**Period has already extended to 31/3/2020.**

Caution: The Period date sticker on the package might be not same as the post description because the extension.

if you have any question, please feel free to contact CS.

Delivery / Return

To be Delivered by HKTV within 1 - 4 days
Photo

Description

Warranty

Recommended for you

Reviews

You may also like
****High Speed Data Added Period****
Activate from the date of 21/9/2019 until 31/12/2019, Plus 2GB High speed data, total 6GB high speed data!! (including all new and old packaging)
**Period has already extended to 31/3/2020.**
【Expiry date extension】
China Unicom has extended the products expiry date as below
【31/03/2020 extended to 30/06/2020】
【30/06/2020 extended to 30/09/2020】
only available of the products which is not activated.

Caution: The Period date sticker on the package might be not same as the post description because the extension.
if you have any question, please feel free to contact CS.
- Valid for 8days (over 23:59 H.K. time as 1day)
- First 4GB high speed data FUP 256kbps unlimited data usage.
-Plug to go, no need registration.
- Available to tethering share data.
- Available to Facebook / Whatsapp / Google & Map etc.

- 3in1 Sim size(included Mini,Micro,Nano).
- Expiry date: 30/09/2020.
Tips
1. If IOS device has installed other APN profile, Sim card will be Failure to use, about profile that you can check it in General setting.
2. before turn on [Data Roaming] function, please reconfirm all sim has clean expect this Sim card.
3. if you only received network but cannot use data, please check your APN setting.
Notice
*This Sim card unable to recharge.
*Tethering only available before FUP.
*Picture for reference only.
*Speed will affected by location, surrounding, device etc.
*Once your total data usage in Japan reaches "Fair Usage level" 4GB, the upload/download speed would be restricted (but not below 128kbps). Due to limited space, the service charge, Terms & Conditions cannot be fully listed, please visited www.cugstore.com/prepaidtnc.)

This is authorized goods.

Warranty is not included.

Recently Viewed Products
( / Total Pages )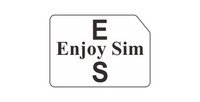 About Enjoy Sim Plus
This shop specialise in traveller's sim cards for mobile phones.
T & C
HKTV mall is not the seller or supplier of the products or services. HKTV mall is responsible for managing and administering its website, arranging order processing and fulfillment for the products or services you ordered from the suppliers through its website. Whatever item you purchase via HKTV mall will be subject to the terms and conditions of that merchant. The merchant is responsible for the sale and for dealing with any claims or any other issues arising out of or in connection with the contract between you and the merchant. In respect of purchases of a voucher, in addition to the contract you will have with the seller of the voucher, there will also be a contract between you and the merchant that actually provides the products and services when you redeem your voucher with that merchant. We, HKTV mall, do not accept responsibility for any claim, loss or damage, howsoever caused (including through omission or negligence), which you may directly or indirectly suffer in connection with the purchase of any products, services or vouchers through HKTV mall, nor do we accept any responsibility for any such claim, loss or damage arising out of your use of or reliance on information contained on or accessed through HKTV mall. It is your sole responsibility to ensure that any products, services or information obtained from HKTV mall meet your specific requirements. Particularly for beauty services, you must take your own precautions to ensure that you understand how the services will be performed before you decide to purchase. If in doubt, you should consult your own professional advisor.
Delivery / Return
• Our products will be delivered by HKTVmall please refer to Shipping Information for more details.
• Actual delivery time depends on the products ordered and the shipping time of the particular merchants.
• Shipping time of this store: Monday to Friday excluding Public Holiday 9am.
• All products are non-returnable.
• In the event of dispute HKTVmall's decision shall be final and conclusive.