merchant delivery
To be Delivered by Esmee Bo. Ltd within 4 - 7 Days
Sold by Esmee Bo. Ltd
This product is returnable
Description
Material: 18K Rose Gold Vermeil

Silver Weight: 5.13g

Length: 450mm and 1.2mm thickness

Stone Type: Guava Quartz 1pc 1.130ct
About Esmee Bo. Ltd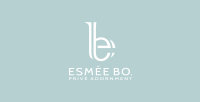 The words "Esmée Bo."; a jewelry box that has been passed on from generation to generation; a mystery waiting to be unveiled; a tale yearning for a happy ending; a jewelry brand earnestly hoping to find its roots.
This intricate, enthralling jewelry box was inherited by the founder, Stewart's great grandmother. There seems to have been a message on the bottom of the box starting off with the words "Esmée Bo.". Unfortunately the rest of the message has been rubbed away through time and is no longer legible.
Stewart's grandmother received this box as a little girl from her mother. Since then, she stored all of her treasures, keepsakes, love notes and her prized collection of timeless jewelry. From the many stories Stewart's grandmother told, her mother loved nature and spent large amounts of time walking through the woods as she was growing up.
This aroused Stewart's curiosity to find the root of this box, while designing a jewelry line to recognize their family's heritage.
Esmée Bo. jewelry got its inspirations from the timeless pieces that were passed on, while applying the charismatic charm of nature to its chic designs.
T & C
• Our store will protect your personal Information in accordance to the relevant provisions of the personal Data Protection Act and in accords to HKTVmall Privacy Policies.
• In case of any dispute, the merchant will retain the right of final decision without prior notice.
• Colour shown may be slightly different from actual products.
• In situation where there are limitations, price, promotion offers and other marketing campaigns on the HKTVmall may varies from retail stores, the terms and offers are only applicable to HKTVmall.
Photo

Description

Recommended for you

Reviews

You may also like
18K Rose Gold Vermeil on Sterling Silver Guava Quartz Curly Loop Necklace

Measurement : 17.4mm x 39mm
Recently Viewed Products
( / Total Pages )