2-day group shipment
Country of Origin

China

Micro Sun - Real time blutooth baby thermometer (white)

With the introduction of the Bluetooth wireless thermometer, parents can monitor their child's temperature in real time through their smartphones.
The built-in battery keeps it running for 24 hours.
Infants, used by people of any age.
The display temperature range is 30-42.38 degrees Celsius
More intimately, the user can set the temperature alarm line through the application. If the temperature exceeds the set temperature or the temperature changes abnormally, the alarm will be automatically issued.

Delivery / Return

To be Delivered by HKTV within 1 - 4 days
Photo

Description

Recommended for you

Reviews

You may also like
When the baby is still not talking, the baby can only cry out, laugh or roll over and kick his legs to express his various demands. For example, the diaper is wet, stinky or thirsty, hungry or even sick.

But if the parents really have to wait until the baby is crying, they will be surprised that the child is having a high fever and will definitely blame themselves. The most important thing for a baby with a high fever is to monitor the body temperature, but few children who are having a fever should honestly use a thermometer or a temperature gun to measure their body temperature. What should I do? This time I need high technology to help.

With the introduction of the Bluetooth wireless thermometer, parents can monitor their child's temperature in real time through their smartphones.

The built-in battery keeps it running for 24 hours.
Infants, used by people of any age.

The display temperature range is 30-42.38 degrees Celsius, and the user can obtain a real-time trend graph of body temperature through a matching application. In addition, if there are multiple children in the family, the app can also monitor multiple different data at the same time.

More intimately, the user can set the temperature alarm line through the application. If the temperature exceeds the set temperature or the temperature changes abnormally, the alarm will be automatically issued.
Recently Viewed Products
( / Total Pages )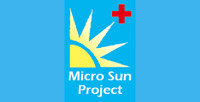 Micro Sun Project Limited