2-Day Delivery
Packing Spec
40 g

Country of Origin

Japan

Description

Sasami with Potato 40g

Delivery / Return

The product will be delivered by HKTVmall
Description

Customer Review(s)

Q&A
Company Description
Petz Route is a Japanese company selling pet supplies. "Petz Route shows the route to be happy with your pet."
Petz Route high quality of pet treats, toys and other supplies not only to improve the quality of life for pet but also to bring happiness to pet owner.
Petz Route has earned high trust from customers who love pets all over the world.
PZ68294 Sasami with Potato 40g Description:
• Non-oil chicken fries with chicken and potatoes slowly steamed to a soft and puffy texture.
Ingredients: 

Meat (chicken fillet, chicken), flour, sugar, potatoes, processed tapioca starch, salt, vegetable fats and oils, spinach, carrots, glycerin, trehalose, leavening agent, sorbitol, sodium pyrophosphate, potassium sorbate, sodium dehydroacetate, antioxidant (Vitamin E), sodium phosphate, food colouring (4 Yellow, 5 Yellow, 1 Blue, 3 Red)
Guaranteed Analysis
:
Crude Protein 9.0% min.
Crude Fat 3.5%min.
Crude Fiber 1.0% max.
Crude Ash 5.0% max.
Moisture 35.0% max.
Approximately 280 kcal per 100g

Directions for Use:
Divide it into about twice a day, adjust the amount according to your health condition, amount of exercise, and season, and give it as a snack.

Small Breed dogs(1~5kg)1~5 piece
Puppy dogs(5~11kg)5~10 piece
Medium-sized dogs(11~23kg)10~20 piece
Large dogs(23~40kg)20~30 piece

© Copyright 2021 All rights reserved
All user comments
Has Images
Replied
Recently Viewed Products
( / Total Pages )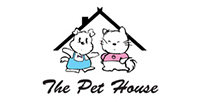 Remarks
We only sell authorized goods from Hong Kong distributors
We do not sell parallel imported goods
We only sell genuine goods
About The Pet House
The Pet House is a local pet shop established in Hong Kong. We believe that pets are not just pets, but a member of the family, therefore we want to give them a quality life. The Pet House has been established for more than 20 years, and we are dedicated to delivering the best of different brands of natural foods, healthy snacks, care products, etc.
Brands we sell include:
1. K9 Natural
2. Feline Natural
3. Orijen
5. Nutram
6. Inaba
7. CIAO
T & C
• Our store will protect your personal information according to the relevant provisions of the Personal Data Protection Act and HKTVmall Privacy Policies.
• In case of dispute, the merchant will retain the right of final decision without prior notice.
• Colour shown may be slightly different from actual products.
• When there is marketing campaign on the HKTVmall, the condition, price and promotion offer may be different from retail stores, such terms and offers are only applicable to HKTVmall.
Delivery / Return
• Our products will be delivered by HKTVmall, please refer to Shipping Information for more details.
• Our dispatch time is from Monday to Sunday.
• The Pet House is committed to customer satisfaction and all purchased products shall be free of defect. They can be returned and replaced subject to the following conditions.
• Ordered pet food will be accepted for reason of changing to another brand, package size or flavor subject to the condition that the returned pet food shall be intact, unopened and remain to be in a saleable condition.
• Opened pet food will be replaceable if mold or insect infestation is found after the package is opened. Request for return and replacement shall be made within 5 calendar dayss from the date of receipt.
• Right for return and replacement of pet food is contingent upon only a reasonable portion of the package purchased has been consumed.
• Return of pet food for replacement for reason of close to the best before date will not be entertained as long as a reasonable period remains for completing the consumption before the best before date is reached.
• Minor defect or variation of the packaging, if that does not affect the quality of the product
will not be entertained.
• Any report of breakage, missing parts, etc. for pet accessories shall be made within 2 days from the date of goods receipt.
• The customer, on making a claim for return and replacement, shall produce detailed information on the reason for the claim, supported by pictures showing the defect as far as possible.
• The right to interpret this policy shall reside with the seller.
• If you received a product that is damaged or defectvie, please contact HKTVmall Customer Service
• In the event of dispute, HKTVmall's decision shall be final and conclusive.