2-day group shipment
Country of Origin

Australia

Description

EUCALYPTUS Essential Oil Single 10ml

Delivery / Return

To be Delivered by HKTV within 1 - 4 days
This item is currently out of stock!
Please click "Notify Me" to get updates of stock replenishment.
Description

Recommended for you

Reviews

You may also like
Inhalation

• Pillow Drop: Place 3-4 drops on the pillow & inhale, sweet dream!

• Aroma Diffuser: Add 5-10 drops to the aroma oil burner, ultrasonic diffuser or other reliable oil diffusers.

• Room Spray: Combine 10-15 drops with 100 ml of water and spritz air space.


Skin Absorption

• Bath Drop: Add 5-6 drops to the running bath water, mix well before getting into the tub.

• Bottom of Foot: Apply 2-3 drops to the soles of the feet, it is the easy, quickly and safety way to absorb by your body.

• Aromatherapy Massage: Combine 15-20 drops to 30ml of carrier oil for body massage. Keep away from eyes and genital areas.
Recently Viewed Products
( / Total Pages )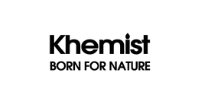 Remarks
If you have any question, please feel free to contact us.
About khemist
關於我們
我們 Khemist 團隊全體仝人所關注的正是您所關注的──完全相同!我們一直不斷搜尋和研發產品,都是在應用上十分安全又成效顯著的。經過多年的試驗並從錯誤中汲取了經驗,我們當然十分明白挫折和無助的感覺。因此,我們決定分享我們的體會和經驗,並為您帶來所有您一直渴求的產品──無需再到處尋尋覓覓了!


時至今日,Khemist團隊擁有超過30年結合了保健及美容產品行業的經驗。事實上,我們一直緊貼全人健康 (holistic wellness) 產品的科研和發展趨勢,並已真正掌握了如何善用這些產品來支援您的身心健康。



我們Khemist團隊只有一個目標,就是研發健康的、創新的、有效的產品,均為我們和自己家人都喜愛使用的。憑藉這股熱誠,我們堅信我們的產品系列同樣能夠為您和您的家人帶來效益,一起樂享身心健康。



也許,其他人亦在研發令您身心健康的產品,但我們堅持為您在每一個細節上多做功夫,從原材料以至您手上的產品都真正一絲不苟,務求盡善盡美。因為,您的讚賞就是我們的未來!

祝福您和您的家人生活愉快!身心健康!
T & C
•Our store will protect your personal information in accordance to the relevant provisions of the Personal Data Protection Act and in accords to HKTVmall Privacy Policies.
•In case of any dispute, the merchant will retain the right of final decision without prior notice.
•Colour shown may be slightly different than actual products.
•In situation where there are limitations, price, promotion offers and other marketing campaigns on the HKTVmall may varies from retail stores, the terms and offers are only applicable to HKTVmall.
•HKTVmall isn't the seller or supplier of the products or services. HKTVmall is responsible for managing and administering its website, arranging order processing and fulfillment for the products or services you ordered from the suppliers through its website. Whatever item you purchase via HKTVmall will be subject to the terms and conditions of that merchant. The merchant is responsible for the sale and for dealing with any claims or any other issues arising out of or in connection with the contract between you and the merchant. In respect of purchases of a voucher, in addition to the contract you will have with the seller of the voucher, there will also be a contract between you and the merchant that actually provides the products and services when you redeem your voucher with that merchant. We, HKTVmall, don't accept responsibility for any claim, loss or damage, howsoever caused (including through omission or negligence), which you may directly or indirectly suffer in connection with the purchase of any products, services or vouchers through HKTVmall, nor do we accept any responsibility for any such claim, loss or damage arising out of your use of or reliance on information contained on or accessed through HKTVmall. It is your sole responsibility to ensure that any products, services or information obtained from HKTVmall meet your specific requirements.
Delivery / Return
• Our products will be delivered by HKTVmall please refer to Shipping Information for more details.
• Actual delivery time depends on the products ordered and the shipping time of the particular merchants.
• Shipping time of this store: Monday to Friday excluding Public Holiday 9am.
• All products are non-returnable.
•All products are opened cannot be refund or exchange.
• In the event of dispute HKTVmall's decision shall be final and conclusive.