To be Delivered by Chow Tai Fook within 7 - 10 Days
Sold by Chow Tai Fook
This product is non-returnable
Description
Platinum PT950 Diamond Ring
About Chow Tai Fook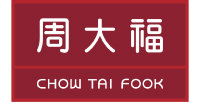 Chow Tai Fook Jewellery Group Limited (the "Group"; SEHK stock code: 1929) was listed on the Main Board of The Stock Exchange of Hong Kong in December 2011. The Group's vision is to become the most trusted jewellery group in the world.
Founded in 1929, the Group's iconic brand "CHOW TAI FOOK" is widely recognised for its trustworthiness and authenticity, and is renowned for its product design, quality and value. A long-standing commitment to innovation and craftsmanship has contributed to the Group's success, along with that of its iconic retail brand, and has been embodied in its rich heritage. Underpinning this success are our long-held core values of
"Sincerity • Eternity".
The Group's differentiation strategy continues to make inroads into diverse customer segments by catering to a bespoke experience for different lifestyles and personalities, as well as customers' different life stages. Offering a wide variety of products, services and channels, the Group's brand portfolio comprises the CHOW TAI FOOK flagship brand with curated retail experiences, and other individual brands including HEARTS ON FIRE, ENZO, SOINLOVE and MONOLOGUE.
The Group's commitment to sustainable growth is anchored in its customer-centric focus and strategies, which are in place to promote long-term innovation in business, in people and in culture. Another asset underpinning sustainable growth is a sophisticated and agile business model. This supports the Group by fostering excellence and extending opportunities along the entire value chain to communities and industry partners across the world.
T & C
The picture is for reference only. The actual product should be considered as final.
Calculation of Selling Price of 999.9 Gold Jewellery
The latest jewellery gold price X the weight of jewellery X 1.02 (2% commission) + craftsmanship and design fee (also known as labour charge)
Gold price is subject to the latest jewellery gold price

• Chow Tai Fook Voucher Rewards are NOT applicable to HKTVmall.

After-sales service:

You may bring the Goods and related invoice to any CTF branch in Hong Kong to enjoy any repair or maintenance service for the Goods.

o Re-sizing for ring

o Polishing/

o Restring bracelet

o Length Adjustment for bracelets and necklace

o Cleaning and Examination

o Engraving (The number of characters to be engraved is limited)

We will provide such repair and maintenance services to you at our then current prices for such services. Within one year after the date of purchase, you may on one occasion for each Good you have purchased, enjoy our polishing service free-of-charge (Does not apply to karat gold, silver and other specific items). You may also enjoy free resizing service for any ring item for one time within one year after the date of purchase of the Goods. (Cost of material not included)

Remarks:

Not all Goods are suitable for repairing or maintenance. You should check with CTF if such service is possible for the Goods you are purchasing. We will charge you material costs at such rate as we may advise for additional material used in the course of rendering such service. For enquiry, please contact the CTF Customer Service Centre or visit any CTF branch. Chow Tai Fook Jewellery Co., Limited reserves the right to revise any terms of the after-sales service from time to time without prior notice.
Remarks
Enjoy 10% OFF on Selected Products till 30 Sep!
Description

Customer Review(s)

Q&A
Style: Ring
Settings: Prong Set
Material: Diamond x1
(Clarity: SI1, Color: H, Shape: Round, Size: 1/70, Total Carat: 0.012)
All user comments
Has Images
Replied
Recently Viewed Products
( / Total Pages )